Travel Japan by H.I.S delivers extensive coverage throughout Japan. We provide you with the latest Japan travel information, and a broad range of products and services such as package tour trips, accommodation, optional day tours and travel insurance.


When you purchase our SureSave travel insurance product  online from Travel Japan  we are happy to offer 20% off the price of the travel premium. Book online today.
Save up to 20% OFF!!


Book online NOW !!

                     
Travel insurance by SureSave
SureSave, is an Australian company who specialise in travel insurance designed for travellers. Dedicated to keeping travellers informed and covered through an honest and genuine approach to travel. SureSave provides world assistance through a customer support team, a claims team and an in-house 24/7 Emergency Assistance division. Underwritten by certain underwriters at Lloyds. You get peace of mind knowing your security is guaranteed. When you need help, you'll get it in a familiar accent from someone who understands and there to help.
SureSave Pty Limited, ABN 82 137 885 262 AR339902 is an Authorised Representative of Cerberus Special Risks Pty Limited
ABN 81 115 932 173, AFS Licence No 308461 (Cerberus).

Travel Japan by H.I.S., H.I.S. Australia Pty Ltd ABN 81 011 037 577 is a distributor for Cerberus.
This insurance is underwritten by certain underwriters at Lloyd's.
---
 No need to loose communications with friends and family back home, purchase a travel sim or mobile wi-fi and stay connected.
---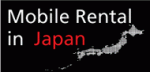 Mobile Wi-Fi Router, offering unlimited data, only pay daily rental fee and you can connect up to 5 devices. Phone SIM Card and 3G SIM Card, use your own iPhone or handset with free incoming calls (including Intl. calls) and unlimited data service (iPhone data cap).
---
For more information and travel options for your Japan holiday, visit JNTO and Japan Train Timetable.
---
---
For more information on your next ski/snow holiday visit Travel Snow by H.I.S.