Experience Henn na Hotel - Japan's Robot Hotels
Experience efficiency and convenience at the Henn na Hotel.
Owned and operated by H.I.S Hotel Holdings Co., Ltd, Henn na Hotel is ever-evolving in design and technology creating a comfortable stay for all those who wish to experience an out of the ordinary stay experience.
Operating under the motto "A Commitment for Evolution," the Henn na Hotel chain brand offers superb entertainment value, providing its guests with excitement through the introduction of human-replacement robots and other state-of-the-art technology.
Henn na Hotel strives for efficiency and environmental friendliness, and is committed to redefining the way we view hotels. With many functional and comfortable rooms as well as fun rooms, Henn na Hotel is great for business travellers and families alike.
Unique Features of Henn na Hotels
Introducing state-of-the-art technologies, Henn na Hotel is the world-first hotel staffed by robots. Just a few of the unique features at each hotel include;
State of the art Front of House Staff: Exciting and fun Robot service - Multilingual Humanoid & dinosaur reception robots at the front desk will assist you with check-in / check-out procedures.
Robohone: Robohone is equipped with face recognition and voice recognition functions. You can talk, walk and dance with Robohone, as well as receiving information about the hotel. In-room Robohones also have alarm functions, and more.
Robot Garment Cleaning LG Styler: A personal steam clothes refresher designed to keep you always looking your very best with minimal effort on your part.
Philips Hue White & Color Ambiance: Set the tone for every activity in your home with the Hue LED Smart Light Bulbs from Philips. Use Hue Bridge and smartphone or tablet to control the brightness and color of your lighting. Choose a bright setting to start off your day or darker setting for winding down before bed.
Tabii & Handy: The original tablet-based service Tabii, which can control lights, air conditioner or TV in a room, will be available, in addition to entertainment-oriented robot services. Handy Smartphone is a complimentary guest amenity offering free connectivity, content, services and in-destination offers
Lobby Light Projections: In the reception area of some hotels, you will be greeted not only by state of the art robot receptionists, but also a dazzling light projection show representing key aesthetics of the city in which you are staying.
Facial Recognition Access: Once you register your face with our face recognition system, you will be free from the hassle of carrying the room key around or worrying about losing it.
Chromecast: Chromecast allows the user to enjoy smartphone and other internet content on the television screen.
iRemocon: A smart remote controller that links with smartphones to monitor the room for a comfortable stay
※Please note: technologies listed may differ based upon hotel location and may not be available in all hotels. Please check your preferred location for further information regarding hotel technology.
Guest Rooms
※Guest rooms will differ based upon location
Each guest room is equipped with modern technology that maximize efficiency. Rooms have motion sensor technology that automatically turn off lights when not in use and air conditioners that use radiant panel technology. Guest rooms are created with comfort and functionality in mind, while trying to also keep the space fun!
In the "Phiten Room", Aqua Titan, Phiten's unique material leading body for state of relaxation, is permeated into wall surfaces and ceilings for experiencing the creation of a relaxation space for sound body and mind.
Bedding made of BREATHAIR® mattresses have many characteristics: air permeability, cushioning characteristics, water permeability, durability, safe, antibacterial properties and kind to the environment to name but a few. Mattresses made with BREATHAIR® make your stay more pleasant.
Theatre Rooms contain In-Room Theatre Projectors so you can enjoy a cinematic experience in the privacy of your own room!
Guest Rooms - Child Stay Policy
Children under 6 years old will not be charged if sharing the same bed as an adult. The following regulations apply;
※Maximum One (1) child under 6 years can share existing bed free of charge.
※If children need a full bed, or are 6 years and older, room charges equivalent to adults will apply.
※Hotels do not provide amenities, towels, pillows etc for children who are co-sleeping. If necessary, additional charges will apply to provide additional amenities for co-sleeping children.
Locations
The first Henn na Hotel opened March of 2015 in Nagasaki, Japan at popular theme park Huis Ten Bosch. It was subsequently followed by many other locations, each places in places that have convenient access to train stations and popular attractions.
HAKATA FUKUOKA

Great access to Canal City Hakata and Tenjin area

KANAZAWA KORINBO

Located in the heart of the city's central sightseeing area.

KANSAI AIRPORT

Watch the planes come and go over Osaka Bay.

KYOTO HACHIJOGUCHIEKIMAE

Located close to Kyoto Station with easy access to many major sightseeing spots.

NAGASAKI HUIS TEN BOSCH

An Eco-Friendly & environmentally aware Future City, located within the popular Huis Ten Bosch theme park.

OSAKA NAMBA

7 minutes on foot from Shinsaibashi Station and 3 minutes on foot to Shinsaibashi-bashi shopping area.

OSAKA SHINSAIBASHI

3 minutes on foot from Shinsaibashi Station, This location is close to the Dotonbori and Tsutenkaku.

TOKYO AKASAKA

Located near Tameike Sano & Akasaka station, This hotel makes a great base for sightseeing and business trips in Tokyo.

TOKYO ASAKUSABASHI

Akihabara is within walking distance, and you can enjoy old fashion Tokyo during your stay at Henn na Hotel Asakusabashi.

TOKYO ASAKUSA TAWARAMACHI

A great hotel for easy access all over Tokyo City, and within walking distance of a number of major stations.

TOKYO GINZA

Within walking distance of popular places such as the Tsukiji Market and Kabukiza, you can enjoy a wide range of activities at this location.

TOKYO HAMAMATSUCHO

Located near Hamamatsucho station, which is a bullet train stop, this hotel is based on the theme of "pleasant sleep and health".

TOKYO HANEDA

Free shuttle bus to & from Haneda Airport! For those on early flights, a special breakfast box is available.

TOKYO MAIHAMA

Henn na Hotel Maihama is located within walking distance of Maihama Station, the nearest station to Tokyo Disney Resort®.

TOKYO NISHIKASAI

Free shuttle buses to Tokyo station and Tokyo Disney Resort®, so you can really make the most of your time and your stay.
Henn na Hotel Check In & Check Out
Hotel Check in 15:00pm
Hotel Check out 11:00am
※Guests requesting late check out will be charged an extension fee, dependant on the additional time room is required.
※After 13:00, 100% additional stay night accommodation fee will be charged.
※Late check out is only permissible subject to room vacancy on the day.
Henn na Hotel Staff
In addition to state-of-the-art robot hotel receptionists, human hotel staff are also on duty 24-7 at each location. In an emergency, these hotel staff will be available to attend to you.
1st Henn na Cafe in Shibuya
The Henn na Cafe is an addition to our family of robot-staffed services. At the Strange cafe, people can enjoy a freshly brewed cup of coffee courtesy of a robot! This will increase speed, as the robot will be able to quickly perform certain jobs so that human personnel can focus on other tasks. This enables us to offer high quality coffee at a low price, a win for everyone!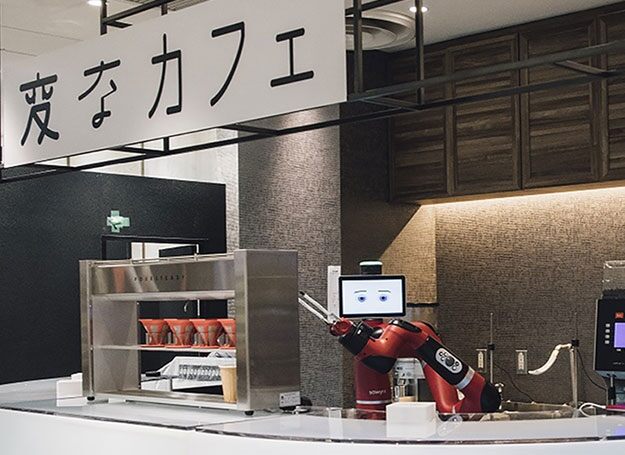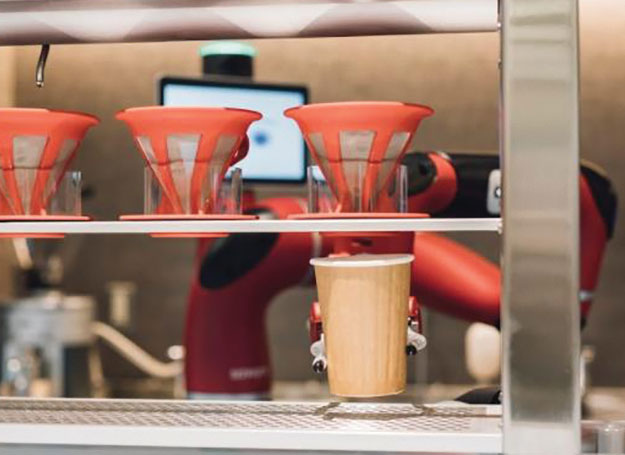 Casual, contemporary café featuring light eats & a robot barista serving coffee drinks.
Location
Shibya MODI Building - Shibuya City, Jinnan, 1 Chome−21−3 B1F
Opening Hours
12:00 - 20:00pm (Monday - Friday)
11:00 - 20:00pm (Saturday & Sunday)