B: Breakfast | L: Lunch | D: Dinner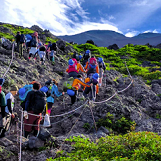 Day 1
Tokyo - Mt. Fuji
7:00-9:00 am: Gather at Keio Plaza Hotel Tokyo (Shinjuku)
Depart near Shinjuku station by bus
Mt. Fuji Kawaguchiko 5th Station
Lake Kawaguchi, Yoshida Exit mountain trail
Above Mt. Fuji 7th Station 
Arrive at Mountain Hut (Toyokan, Hinodekan or Fujiichikan) 
22:00-23:30 pm: Above Mt. Fuji 7th Station Mountain Hut 'Toyokan' Departure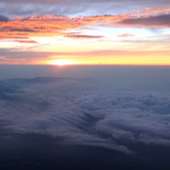 Day 2
Mt. Fuji - Tokyo
4:30-6:30 am: Visiting Mount Fuji mountaintop and the mountain crater
Descend via Yoshida Trail towards Lake Kawaguchi
Depart from Mt. Fuji Kawaguchiko 5th Station by bus
Lake Yamanaka Onsen, Benifuji-no-Yu 
17:00-18:00 pm: Tour ends near JR Shinjuku Station.
3 staff members - a Japanese speaking mountain guide, a National Government Licensed English guide interpreter and Japanese-speaking tour conductor.
Mountain Hut accommodation charges
Round-trip bus fare
Benifuji-no Yu hot spring fee
1 dinner on Day 1
1 breakfast on Day 2
• Take precautions to avoid altitude sickness, which can occur as the air thins at high altitude, such as getting enough sleep the night before the tour, and repeatedly check your physical condition while climbing.
• Since the creation of a participant name list is required for safety purposes, we ask that all participants please provide their names and emergency contact details on the first day of the tour.
• Mountain accident insurance is not included in this tour. (Customers of non-Japanese nationality are unable to enroll in Japanese mountain accident insurance.) We recommend customers enroll in overseas travel insurance before leaving their country.
• The purpose of this course is to see the sunrise from Mt. Fuji, so all participants will climb to a mountain hut accommodation above the 7th station on Day 1. Participants may be unable to see the sunrise from the mountain due to weather or crowding on the mountain path, but these will not be accepted as reasons for a refund.
• Generally the tour will be carried out even in the case of rain, but in the case of bad weather at Mt. Fuji the tour conductors and mountain guide will determine whether to halt the tour with first consideration to safety. Also, the above times, climbing time, route, and arrival times may vary greatly depending on weather and crowding conditions. Be aware that refunds will not be issued even in case of cancellation partway through the tour.
• Participants choosing to use a mountain hut accommodation other than Toyokan, Hinodekan or Fujiichikan due to their own circumstances are responsible for the expenses required.
• The mountain hut accommodation consists of a mixed men's and women's room with bunk beds, and less than 1 mat of space per person (about 1 m by 2 m). There are no bathing facilities at the mountain hut, and non-flushing Japanese-style toilets are available outside.
• If you are late for the 2nd day departure from Mt. Fuji Lake Kawaguchi 5th Station (around 11:30, to be determined on the 2nd day of the tour), you will be responsible for the transportation costs to your next destination.
• The Mt. Fuji entrance fee is not included in the tour booking price. Participants may make a contribution at Mt. Fuji on a voluntary basis.
Yamanashi Prefecture regulations prohibit people with tattoos from bathing in hot springs. Customers with tattoos are unable to bathe at Benifuji-no-Yu.
•  This is a shared tour with local Japanese tourists. The National Government Licensed English Guide Interpreter will accompany you throughout the entire tour, and a Japanese-speaking mountain guide will also accompany you from the 5th Station to the peak and back.
• Infants 5 years of age and younger cannot participate in this tour. Those between 6 and 15 years old must be accompanied by someone 20 years old or older. Those between age 16 and 19 may participate by themselves if an agreement form signed by their parent or guardian is received by us at least 4 days before the tour.
• Cannot be guaranteed, but requests for vegetarian meals may be made at the time of booking, 
• Altitudes at various parts of the mountain are 2,300 m at the 5th Station, 3,000 m at the 7th Station mountain hut where the tour will stop to sleep for a short period, and 3,500 m at the peak, where temperatures often fall below 5 degrees Celsius and the temperature difference compared to the 5th Station may be more than 15 degrees Celsius. Please prepare all necessary cold weather gear, and be sure to confirm what to bring and wear for the tour.
http://www.fujisan-climb.jp/en/erquipment/index.html
• Climbing gear is not included in the tour booking charge and you are to make reservations by yourselves in advance.
   Yamarent (https://www.yamarent.com/en?language=en)
   Please be sure to select either Shinjuku Shop or Fujiyoshida Route Mt. Fuji 5th Station Shop.
   **The tour will not stop by Kawaguchiko and Fujinomiya Route Mt. Fuji 5th Station.
• If the minimum number of participants is not met, the tour may be canceled.
More Japan Travel Packages