Experience some of Japan's most amazing flavours!
You can develop a deeper understanding of why Japanese cuisine is so exquisite and unique. Learn about the famous foods from different regions of Japan, the process of how they are made, and why they come from those areas. We will visit many speciality shops and discovers the history of one of Tokyo's oldest and most important culinary neighbourhoods, a great tour for people looking for an ease pace.
B: Breakfast | L: Lunch | D: Dinner
Day 1
Nihonbashi, Tokyo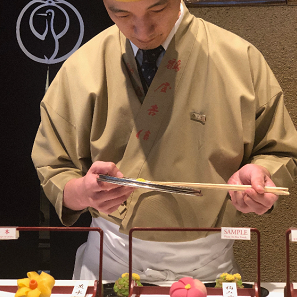 10:30 am: Meet the guide at Nihonbashi area.
You will visit 7 shops, and taste more than 13 different types of food, each representing different regions of Japan, seasonal flavors and the building blocks of Japanese cuisine. Your experience will include samplings of Dashi (Japanese soup stock), Tamagoyaki, (egg roll),  Anago (salt water eel), Kamaboko (fish cake) Katsuoboshi (fish flakes), satsumaimo (sweet fried potatoes) and Wagashi (Japanese dessert). You will enjoy exploring a special regional food shop and taste some amazing green teas from an innovative and yet traditional shop.
Lunch: Choice of Soba,Tempura and Sashimi Set, Grilled Fish, Chicken Sukiyaki at a very serene, authentic place.
Wagashi experience: Wagashi is traditional Japanese cake also known as "art of the five senses." These desserts offer layer-upon-layer of enjoyment with their beautiful design, delicate sweetness and pleasant taste. Awagashi master will make an intricately hand crafted dessert in front of you.  
Green tea shop: Our final stop will be in an innovative and amazing green tea shop. We will have the change to taste seasonal teas and even bring some wonderful tea souvenirs home with you– if you choose.
13:30 pm: Tour ends. Please make your own way to your next destination.
English speaking local guide
Local dishes at 7 food stops
Local Japanese lunch
1 complementary drink
Regional food tasting
We have a strict policy about starting tours on time. This is to protect the enjoyment of all our guests and restaurants. If you are not able to arrive at the meeting point by the departure time, the tour will start regardless and no refund will be provided.
Unable to accommodate meeting up in any of the food stops once customer have missed the start of the tour
Be sure to wear comfortable shoes.
Cannot make an allergy free or dietary restriction food guarantee since food is prepared in kitchens.
Changes to tours and spots we visit may occur due to schedules of restaurants, public holidays, weather conditions and other unforeseen circumstances. Applicable substitutions will be made in this case.
Minimum 2 people
More Japan Travel Packages