One of the best ways for families to get to know the host country is considered as traditional cooking!
This is a simplified sweets making class that is fun and safe for kids. To meet with children's attention span, we make sure the experience does not last more than 30 minutes and the whole experience is finished in 45~60 minutes. When we have a moment, we engage young participants by teaching them origami tricks.
The best part is you get to eat what you make, a wonderful Japanese memory you will always cherish!!
B: Breakfast | L: Lunch | D: Dinner
Day 1
Tokyo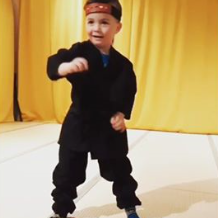 Meeting point: Make your way to the venue. (Please select the start time upon booking: 11:00/12:00/13:00/14;00/15:00/16:00
First you will transform into modern day ninjas. You will learn some secret tricks of ninja. Did you know the ninja did not eat any smelly food??? A friendly English-speaking instructor will present information and guide you in making your delicious Japanese sweets. After you make the sweets, you have the pleasure of eating them. 
Tour End: Tour will end after 45 - 60 minutes. Please make your own way to your next destination. 
Make your way to the venue before the activity starts.
Minimum 3 people to reserve this experience. If only 2 people are participating please reserve for three, as this is a private experience.
Pictures shown are illustrations purpose only.
More Japan Travel Packages