Learn the ancient Zen Buddhist cooking methods (sojin-ryori) from Nationally-licensed instructor!
Shojin-ryori is an ancient cuisine that has been eaten by Zen Buddhist monks in Japan since the 13th century. Due to Buddhism's restrictions on meat-eating, it is fully vegetarian and avoids any strong flavours like garlic or onion. Instead, there is an emphasis on drawing out the five food flavours (salty, sweet, sour, bitter, and umami) naturally. Each meal should also visually represent five colours (red, yellow, green, black, and white) and use five preparation methods (raw, stewed, boiled, roasted, and steamed). This concept is known as the "Rule of Five" and is connected to Buddhist ideas on spiritual balance.  


B: Breakfast | L: Lunch | D: Dinner
Day 1
Tokyo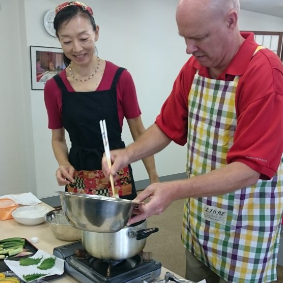 Meeting Point: Make your way to the venue (your instructor's private home).
You will learn how to make shojin ryori, the typical cuisine of Zen Buddhist monks. As part of this experience, you will make traditional shojin ryori dishes, such as tempura vegetables, tofu salad and dashi-based soup. While you cook, our expert instructor will teach you all about this important meal's history and its contributions to Japanese culture. You will then sit down to enjoy your creations as a shojin ryori meal and learn all about Japanese-Buddhist food etiquette. 
Tour End: Activity will finish after the 120 minutes class. Please make your own way to your next destination. 
Nationally-licensed shojin-ryori instructor 
Shojin-ryori ingredients 
Due to the seasonal nature of shojin ryori, dishes made will depend on the time of year.
Pictures shown are illustrations purpose only.
Minimum 2 people
Please follow the guide's instruction during the program. We shall not be responsible for any accident caused by disregard of the instructions.
More Japan Travel Packages