This bus tour takes you to Kamakura's popular spots such as Kotoku-in Temple, Jomyoji temple, and Hasedera Temple which are difficult to reach by trains. See the Kamakura Daibusu, gigantic Buddha statue and feel the cool sea breeze a you gaze out on the beautiful sea around Shonan spreading before your eyes in Enoshima!         
B: Breakfast | L: Lunch | D: Dinner
Day 1
Tokyo - Kamakura - Tokyo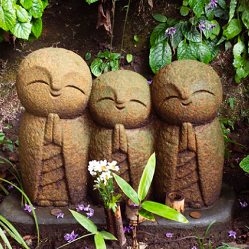 8:15 - 9:15 am: Depart from Tokyo by bus.

Jomyo-ji Temple: A zen temple in the hills of eastern Kamakura that was founded by the influential Ashikaga family and at its peak was made up of seven buildings and several pagodas. Try some of Japan's famous powdered matcha green tea and confectionery in the highly refined and tranquil atmosphere of a tearoom constructed over 400 years ago, and enjoy the view of the temple's Japanese rock garden.
Tsurugaoka Hachimangu Shrine:  Deep leafy greens of the forest and the shrine's vivid vermillion hues are balanced in harmony at this location, which is designated as an important cultural property of Japan. 

Kotoku-in Temple: The Great Buddha of Kamakura is a bronze statue of Amida Buddha, which stands on the grounds of Kotokuin Temple. With a height of 11.4 meters, it has long been the second tallest bronze Buddha statue in Japan, surpassed only by the statue in Nara's Todaiji Temple and some recent creations.
Lunch: Enjoy lunch at local restaurants.

Hase-dera Temple: The sister to Nara's Hasedera and one of the oldest temples in Kamakura. Said to have been established in the eighth century, Hasedera Temple is home to a giant statue of the Kannon, or goddess of mercy. Explore the grounds and enjoy the history.
Enoshima sightseeing: A getaway island popular year-round for its cool ocean breezes.Cross over the 600-meter bridge that connects the island of Enoshima with the mainland and walk along Benzaiten Nakamise Street which is lined with intriguing shops bustling with customers. Take the Enoshima Escar escalator which will whisk you easily up to Enoshima Shrine to see the beautiful ocean views.

17:40 - 18:40 pm: Tour ends near Shinjuku station. Please make your own way to your destination.
National Government Licensed English Guide Interpreter
Matcha Green Tea Experience at Jomyo-ji Temple
Lunch
Fare for Enoshima Escar section 1
Other admission fees and transportation costs included in the tour
Locations indicated on the itinerary may be changed due to closed days, inclement weather, events, or traffic conditions. However, the tour will not be cancelled or refunded even in such cases. The following are possible substitutes: Hokoku-ji Temple, Engaku-ji Temple, Kencho-ji Temple, Kamakuragu Treasure Hall, or Tsurugaoka Hachimangu Shrine Treasure Hall.
The order of the itinerary is subject to change depending on operation circumstances of locations to be visited, road conditions, and weather conditions.
During the peak summer season (July and August), the tour will not stop at Tsurugaoka Hachimangu Shrine due to expected congestion in Kamakura. Refunds will not be issued.
Participants can take the Enoshima Escar escalator when going up, but will need to walk the stairs when coming down. For those who have difficulty walking, please wait at the Benzaiten Nakamise Street. Please note that refunds will not be issued for such reasons.
If the number of participants exceeds 15, earphone guides may be used for the guide's explanations. A fee of JPY10,000 may be incurred if an earphone guide is lost or damaged by a participant.
Ensure the best tour for everyone, we must start the tour on time. You will not be able to join the tour, get refund or rescheduled if you are late for the tour and missed the group.
Lunch menu is subject to change depending on the facility's circumstances or stocks available on the day.  Vegetarian meals are available, but must be requested at the time of booking. Allergy-friendly meals, etc. are not available.
More Japan Travel Packages