This tour visits the must-see landmarks and popular places in Kyoto, all in 1 day!
Departure

23 Nov 2018 - 31 Dec 2019: Daily
(except   23 Dec 2018, 1 - 4,13, 14 Jan, 3 Feb, 30 Apr, 1 May, 10 Nov,  22 Dec 2019)

Code

DOA-KYO
B: Breakfast | L: Lunch | D: Dinner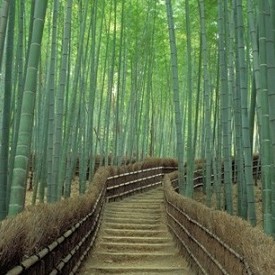 Day 1
Kyoto
ITINERARY
8:30 a.m. Depart at Kyoto Station
8:55 a.m. - 10:00 a.m. Visiting Kiyomizu-dera Temple, one of Kyoto's best-known temples for it's main hall which is 13 meters above the hillside below.  
10:15 a.m. - 10:50 a.m. Sanjusangen-do Temple, known for 1001 statues of Kannnon, the Goddess of Mercy.
11:20 a.m. - 12:30 p.m. Proceed to Fushimi-inari Shrine famous for it's one thousand gateway painted in blood orange. Drive through To-ji Temple, Katsura River.
1:15 p.m. - 2:15 p.m Enjoy a Japanese style lunch.
2:15 - 3: 30 p.m. After lunch, walk around Sagano and Arashiyama Area - including Togetsu-kyo Bridge located centrally and a mark of Arashiyama. The magical place of Sagano Bamboo Forest and Tenryu-ji Temple is considered Kyoto's best zen temple.Drive through Ninna-ji Temple.
4:00 p.m. - 4: 30 p.m. Kinkaku-ji Temple, one of Japan's most well-known sights, with its main hall covered in brilliant gold leaf. Drive through Nijo Castle, Nishi Hongan-ji Temple.
5:15 p.m. The tour will finish upon arrive at Kyoto Station.
Transportation 
Multilingual speaking audio guide
Tour Assistant
Lunch
Admission for Kiyomizu-deta Temple, Sanju Sangendo Temple, Teryu-ji Temple, Kinkaku-ji Temple.
1. Itinerary order is subject to change depending on traffic, weather and operation.
2. The time and order of itinerary may change due to the weather and traffic conditions on the day.
3. The lunch menu may change due to operation.
4. Drop off service is not available.
5. Osaka departure is available.
More Japan Travel Packages