Toyota Motor Company is the world largest car manufacturer. They became the first carmaker to produce more than 11 million cars in a year and this tour will help you understand their success secrets! They have nurtured an industrial climate of getting rid of waste as much as possible and kept on making improve through many years and grown to be one of the representative Japanese industries. 

B: Breakfast | L: Lunch | D: Dinner
Day 1
Nagoya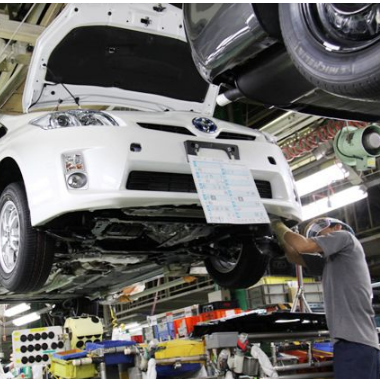 8:00-8:30 am: Meet the guide at the meeting point in Nagoya central and head to Toyota factory by public transport.
Toyota Plant: we visit their main plant located at the birthplace of Toyota Motor Company. Following are the major points worthy of note. You'll feel like going into the near-future world where hundreds of manufacturing robots in operation.
1. Just-in-time manufacturing operation that starts only after receipt of order. This made an inventory free operation possible.
2. A single car consists of about 30,000 parts including small screws. At their assembly plants, conveyors moving at a specific speed are installed. Parts are assembled on the conveyors. Because an individual customer's requirements for the car are different you'll see many cars of different colors, shapes, and parts are lined up on the same conveyor. It's a manufacturing system named Kanban Hoshiki Style that made this complicated manufacturing method possible without making mistakes. This Kanban Style is truly a management revolution.
3. An individual machine at each manufacturing process is equipped with an error sensitive device that stops the machine automatically and doesn't produce faulty parts. Each worker is responsible for own operation. When they find any problems, they stop the manufacturing process and solve the issue.
4. At Toyota, each employee's potential ability is highly respected. In other words, all the workers are so-called inventors. At each operation, new devices and improvements are accumulated to produce more effectively with fewer mistakes. There is a special
corner where a visitor can experience such new devices and improvements.
5. You'll observe the above items on a bus with an English explanation from responsible Toyota staff. 
Toyota Commemorative Museum of Industry and Technology: At this Toyota Commemorative Museum of Industry and Technology, many automatic looms invented by Sakichi Toyoda are on display. A variety of demonstrations show how textiles are woven from thread. At the car display section, from the first Toyota car to the latest hybrid cars, sports cars, and future cars are on display. At the car mechanism section from robot-controlled welding machines to various manufacturing equipment are on display. And those exhibits are actually operable. There is a section for making a toy car. You can make a cell phone strap and a medal at free of charge. It's really a fun facility for everybody from adults to children.
17:00 pm-: Tour ends at the venue. Please make your own way to your next destination.


English speaking guide

Public Transportation fee (For taxis or hired cars, additional fee will be charged.)
Please follow the guide's instruction during the program. We shall not be responsible for any accident caused by disregard of the instructions.

Minimum 2 people
If you are not able to arrive at the meeting point by the departure time, the tour will start regardless and no refund will be provided.
Be sure to wear comfortable shoes.
More Japan Travel Packages