JAL SPECIAL PRICE to JAPAN!! End of soon!!
Thu, 16 Jun 2011

JAL SPECIAL PRICE to JAPAN! Offer ends 30 July 2011!!
Return Trip from $995 (inc.taxes) *
[Departing from] Sydney, Melbourne, Brisbane, Adelaide, Canberra, Perth
[Destination] Tokyo(Narita, Haneda), Osaka, Nagoya, Fukuoka, Sapporo
* Osaka, Nagoya, Fukuoka departure/arrival via Tokyo
Departing
Class
Departing
Price

01Jun 2010 - 31 Mar 2012

Economy

Sydney

from

$995 *

Melbourne

from

$1014 *

Brisbane

from

$1013*

Adelaide

from

$1024 *

Canberra

from

$1039 *

Perth

from

$1015 *
* Not including booking fee $40 per booking per person.
* The maximum stay away is 6 months ( until 31 Mar 2012).
* Stopovers are not permitted.
* Prices shown are fully inclusive of taxes.
* Additional levies, government charges & other applicable fees may apply and are beyond our control.
* Please note that all featured "from" prices are based on the lowest priced routing and can differ for
each departure and arrival point determined by the taxes and surcharges.
< Free Baggage Allowance>
Class
Free Baggage Allowance
First class /
Executive class
Piece:3pieces
Weight:Each piece must not weigh
more than 32 kg (70 lbs.).
Premium Economy /
Economy class
Piece:2pieces
Weight:Each piece must not weigh
more than 23kg (50lbs.).
Infants entitled to
a seat
Same free baggage allowance as adult
A fully collapsible stroller, carrying
basket and car seat for infant or child
may be accepted without charge.
Infants not entitled to
a seat
1 piece with same total linear
dimensions (length+height+width) and
weight as accompanying adult.
<Premium Economy Class>

<Executive Class>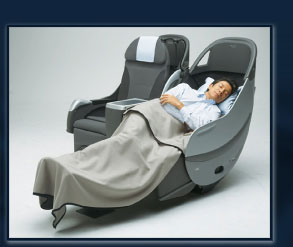 Call us or Online Enquiry NOW! while offer lasts!!
---
Comments
Hello,

My husband and I are planning to travel to Japan (from Melbourne to Osaka) from 23/12/2011 to 27/1/2012.
Can you please let me know whether the advertised fares apply for these flights?

Thank you.
Posted by Kyoko Naudi on Tue, 21 Jun 2011 - 8:27pm
---
My husband and I are interested in flying to Tokyo from Perth on 4 January 2012, return 24 January, flexible with dates. Could you please give a quote for airfares? Thank you.
Posted by Andrea on Fri, 22 Jul 2011 - 4:27am
---
Post a Comment