I had a wonderful time in Japan
Mon, 23 Feb 2015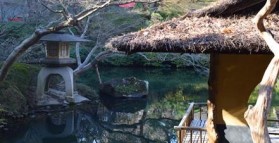 Hi Fumiko
I had a wonderful time in Japan; it was my dream holiday. Thank you for all you're help, advice and planning.

I visited Nagano and Tokyo area's. I love it there so much I will visit again someday. I got to speak alot of Japanese to Japanese people which was fun. I am very glad I did a short language course in Japanese.
I visited Mt. Hakuba in Nango area first, I stayed in the Happo one area of Mt. Hakuba. I had wanted to learn how to snowboard for a long time and finally got the chance. I had my first lesson with a private instructor and I was able to go up the lift and slide down the mountain. My second lesson was a group lesson where I was able to make turns with the snowboard and move about better. I had so much fun and met some lovely people. I also had a day trip to visit the snow monkey temple and Zensoji temple which was an amazing experience.
After my four days were finished in Hakuba, I travelled to my hotel in Shinjuku Tokyo. My next day I had a group tour which I saw popular sites of Tokyo. I saw Tokyo Skytree (Veiw of Tokyo), Happo-en (Tea-ceremony/wedding area), The Imperial palace (Residence of Tokyo's imperial family), cruised the Sumida river by ferry and Asakusa temple.

So then I visited Odiba with my Japanese friend Hiroshi. He took me to visit the National Museum of Emerging Science and Innovation (Miraikan), Palette town Ferris wheel, a popular onsen (Japanese bathing house), and took me to an amazing course dinner with a view of Tokyo night scenery and rainbow bridge.

The next day I caught a train to Harajuku. I ate my first berry cheese cake crepe and it was sooo yummy. I explored around and bought lots of chocolates, as they have specialty shops like Dars. I walked down tuilp street and then walked to Menji shrine. I walked around the beautiful park and took some more photos.
I also visited Shibuya which is famous for Tokyo's overcrowded street crossing's. I visited Shibuya 109 store which is famous for shopping. I bought some clothes, souvenir's and jewellery. My favourite store is une nana cool they have really cute girly lingerie and bra's that fit great.
Ueno has a famous zoo so I went to visit as I had never been to a zoo before. I loved the polar bear the most he was such a character and posed great for the camera. They had a very big variety of animals like tigers, pandas, gorillas, elephants, monkeys, etc. I had a lot of fun at Ueno zoo and even ordered a panda dumpling to go with my panda seeing adventure.
Akihabara town had an anime/manga theme and lots of arcade games. I had alot of fun playing the arcade games. I ate some interesting food in Akihabara and picked up more souvenirs.
Ikebukuroo I visited for more shopping. I saw Evangelion store which is a store dedicated to a popular Japanese anime TV show.
I went and saw a famous stage show called robot restaurant in Shinjuku's red light district Kabukicho. The show was centered around the robots and the performers. It was just the weirdest random thing I have ever been to, but great to see.
I tried my best to see all the main area's of Tokyo in 8 days. I drove past Ginza and Ropping in the bus but I didn't get to visit them. Id like to go see Kabuki at Ginza next time I visit. And Tsuji fish market will be cool to see as well.
---
Related Articles