Memorial hospitality
Fri, 2 Oct 2015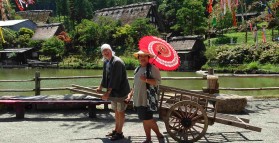 Hi Fumiko,
Thanks again for putting together a terrific itinerary for our 18 days in Japan.
Everything worked well ... the transfers, the tours, hotels, and Rail Pass travel.
Anything that we were unsure about was quickly fixed by helpful local people everywhere.
The scenery, the historical monuments, the modern cities and infrastructure were all amazing, but for us the real memories and highlights were from the hospitality shown by the people.
I have attached some pictures.
cheers and many thanks
frank and Jo tullemans
---
Related Articles