Most memorable trip
Wed, 7 Oct 2015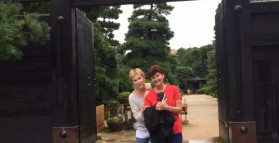 Hello Fumiko,
My trip to Japan was most memorable (with your help) and my friend and I had some fantastic experiences. One of the best was Kyoto which was just as I had been told. Wonderful shopping in small very friendly shops, day trip to amazing temples and gardens and went just so fast. We had four days there but enjoyed it so much, didn't have time for Osaka. Next time!
Hiroshima was a very moving experience. We stayed with some lovely Japanese folk in Hiroshima and they very kindly showed us around this sacred place and shared their lovely house with us.
We had the best night with a dear old friend in his house who, although unable to converse in English, had organised about twenty of his old friends to arrive at various intervals bearing gifts of food and presents for us! It was Japanese hospitality at its best!
Singing, dancing, eating and laughing - what a great night!
Fast trains were no problem and easily manageable.
Thank you for sharing your experience and helping us have another wonderful trip.
Judy x
---
Related Articles