Tomamu was a great place and we had a great time
Mon, 29 Feb 2016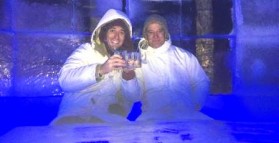 Hi Fumiko san

Tomamu was a great place and we had a great time on some awesome powder snow and off piste snow boarding. It was very different to Nozawa Onsen where we have been several times before and we did miss the village atmosphere of Nozawa and local community restaurants and of course the onsens. Tomamu had some good café and restaurants however they were just not like the small locally owned ones in the Nozawa village where you share the dining experience with your hosts. The accommodation at Tomamu was excellent with good clean rooms and we had spectacular views being on the 25 floor. The buffet breakfast while busy was excellent and the Tomamu staff were always very welcoming.
Being in Hokkaido it was very cold in Tomamu and the walk in the unheated walkway from the accommodation towers to breakfast buffet in the morning was done very quickly and we always kept well rugged up. A good thing is that everything in Tomamu can be put on your room account and paid for at the end of the stay. This saved us having to carry cash and use the ATM.
Thank you to Fumiko san at HIS for suggesting Tomamu, the boarding was some of the best we have experienced in Japan especially when you can go into the limited access areas for fresh powder snow. The ability to walk out of the accommodation and straight onto the snow and go boarding was good and while my legs and lungs hurt walking uphill to access some of the steep off piste areas the beautiful fresh deep untracked powder snow runs on the way down made me quickly forget the hard walk.
The resort even has its own ice village and ice bar where you can enjoy a quick ice cold sake or beer in the evening before hurrying back to the warmth of your room. It is hard to believe how cold it actually was now that we are back home in hot steamy Cairns and PNG. As for next season we will most likely head back to Hokkaido again and not sure where subject to price and availability and may consider the option of Tomamu again.

Regards
Ian
---
Related Articles