Driving in Okinawa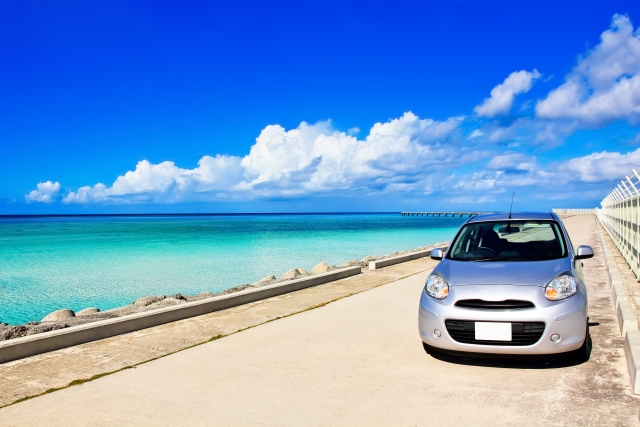 If you are planning to sightsee extensively around Okinawa, or just like to take the time to see the sights at your own leisure, doing so by rent-a-car is the way to go.
With the exception of the monorail in Naha city, public transport on the Okinawa main island is limited. For this reason, especially on weekends, most people drive to get everywhere and traffic can be quite heavy. The roads outside the capital tend to be wider, and less congested, offering an relaxing way of enjoying the amazing sites around the entire main island at your own pace. During bad weather such as rain and typhoons drivers tend to slow down making traffic even worse than usual. Plan for a little extra time to get to your destination in these conditions when renting a car in Okinawa.
You can select automatic transmission and an english-language navigation system when booking a car at most rental companies, making it easy to explore the island at leisure.
Like the rest of Japan, Okinawans drive on the left-hand side of the road, and an international drivers license, passport and credit card is required.
Pick Up and Drop Off is most commonly at the same place.
Contact one of our friendly consultants for assistance with Okinawa Rent-A-Car bookings.
Traffic Rules and Notes For Driving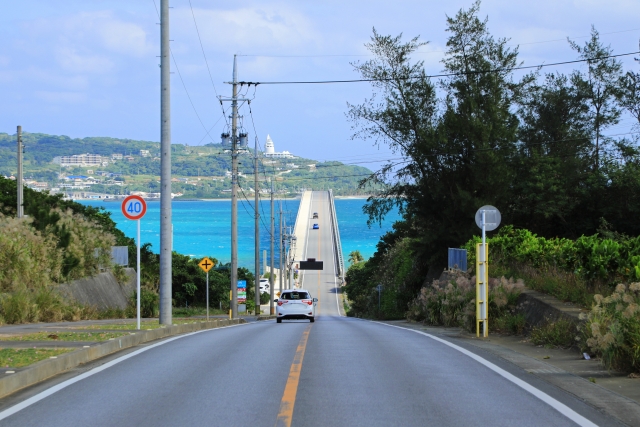 In Japan, vehicles drive on the left side of the road and are right-hand drive.




If this differs from your country, be careful when driving.
Japanese Road Traffic Rules
※During morning and evening hours, some lanes on national roads in Naha, Urasoe and Ginowan City are reserved for buses (bus lanes). During these designated periods driving in the bus lanes is not permitted.
※If you drive on the expressway, it is recommended that you choose a rental car with ETC, which allows for smooth payments at toll booths. ETC also provides discounts at night and certain other times during the day. ETC cards are issued by a credit card company, but some rental car companies offer a lending service, so check when making your reservation.
※In Japan, the law stipulates that a driver must use a child seat when driving with a child less than six years of age. If this applies to you, install a child seat appropriate for your child's age and physique. The various rental car companies offer lending services, but the fees and arrangement differ, so be sure to confirm when making your reservation.
※When driving in Japan, one of the following types of licenses is required. Be sure to confirm beforehand and complete the necessary procedures. When driving in Japan, your own country's license may be required as well, so be sure to bring it with you.
A Japanese driver's license (for persons residing in Japan)
U.S. Forces, Japan Operator's Permit for Civilian Vehicle
Passport + An international driving permit based on the Convention on Road Traffic (Geneva Convention) + Driver's license from their respective country
Persons with a driver's license issued in Switzerland, Slovenia, Germany, France, Belgium, Monaco, or Taiwan also require a Passport + Driver's license from their respective country + An original Japanese translation of the license. (The Japanese translation must be from the embassy or consulate in Japan of the respective country, JAF (Japan Automobile Federation), or the East Asia Relations Commission).
※With regards to 3 and 4, please have these documents prepared in advance in your respective country.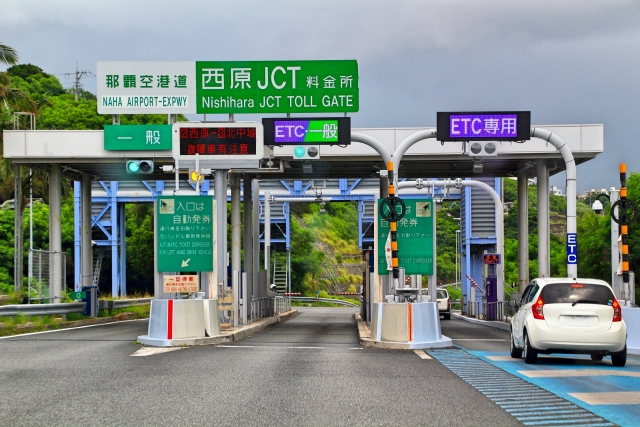 How to Use Coin Parking Lots with Locking Plates
※Many of the coin parking lots in Okinawa feature locking plates installed in the parking spaces.
※After you park, the locking plate automatically rise and locks the car in place.
※When leaving the lot and paying the fee, you use the fare machine installed in the parking lot.
※Entering your parking number into the fare machine automatically calculates your fee, and once the displayed amount is paid, the locking plate keeping the car in place descends.
※Return to your car, confirm that the locking plate has descended, and immediately leave the lot.
For more information regarding driving in Japan, traffic rules and road signs, please check the following:
※Bus Lane Zones: A Guide
※Traffic Rules & Road Signs
※Driving a Motor Vehicle in Japan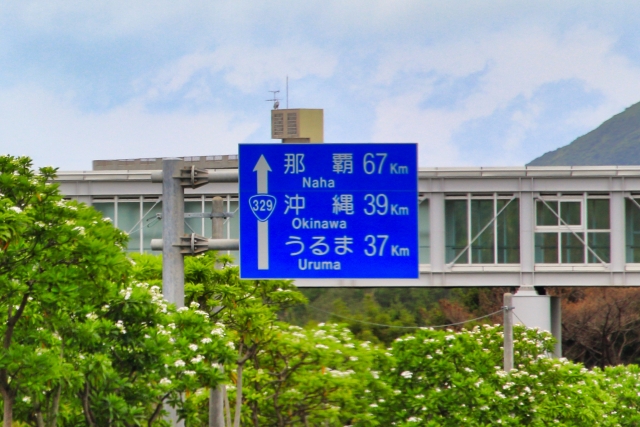 In Case of Emergency
Medical Assistance (for injuries and sickness):

119

Police (for accidents and other incidents):

110
※If you are involved in a traffic accident, first move your vehicle to a safe place out of the way of other traffic, and turn off the engine, to prevent the occurrence of secondary accidents.
※If anyone is injured, call 119 first and give whatever first aid you can to the injured person until an ambulance arrives.
※You must call the police (110) without fail and report the accident, providing information about the location of the accident, number of injured persons (if any), and degree of damage, and follow the police officer's instructions.
※If you cannot call the police or an ambulance for yourself, ask someone around you to do so. If you leave the scene of an accident, you might be deemed to have committed a hit-and-run offence.
※You may insure against automobile accidents to reduce the financial burden in the event of an accident.