Experience Another Side of Japanese Food
Okinawa is known for certain food specialties that makes the island's own Japanese cuisine stand out from that which is found on the mainland.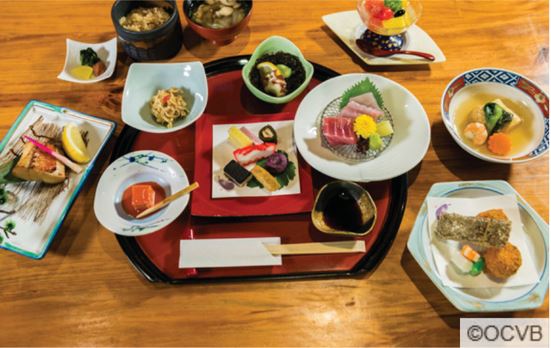 For information and availability regarding Okinawan Cooking Class experiences, check out the options below:
Okinawa Living Experience - Cooking Class & Market Tour
Makishi Public Market in Naha City, fondly known as Okinawa's kitchen, is considered indispensable for living in Okinawa - handling abundant ingredients such as pork, dried food, and island vegetables integral to Okinawan cuisine.
"Okinawa Living Experience" is a special experience where you can enjoy choosing ingredients at the market, and cooking in a cozy home kitchen with your teacher. Learn the food culture of Okinawa, enjoy interactions with local food sellers at the market, taste Okinawan home-cooked food - this is the "Okinawa living experience."

Class Details:
Daily courses start at 10:00am or at 16:00pm
Meet in the middle of the bustling Kokusuidori
↓
Guided tour and shopping in the market (approx. 40minutes)
↓
Move to the cooking classroom (about 10minutes)
Groups of more than five people will require a public taxi (additional fee)
↓
Cooking class & tasting time
↓
Experience ends following meal


Taste of Okinawa Cooking Experience
Take a food market tour at the Naha Public Market located nearby tot he cooking studio, where you will learn about locally grown products and select ingredients that will be used in the cooking class. Upon returning to the studio, you will prepare a four-course menu consisting of a classic appetizer, main dish, soup and dessert in a class facilitated by a bilingual Okinawan food enthusiast and instructed by professionally trained chefs. The classes are a fun, social, hands-on experience where you will prepare various dishes in a teamwork setting under the thoughtful guidance of our chef instructors.

Class Details:
Classes run Tuesday - Sunday (10:30 - 13:30 & 15:30 - 18:30)
- Please notify in advance about any food restrictions you may have and organisers will do their best to accommodate you.
- Classes are designed for both novice and accomplished cooks. Activities in the food preparation process cater to every skill.
- Traditional Okinawan 'sanpincha' (cold Jasmine tea) will be provided for free during the cooking experience
- Other non-alcoholic and alcoholic drinks are available for purchase at the studio.