Gunkanjima Cruise & Landing
from
$69
AUD
Take a cruise from Nagasaki Port to UNESCO World Heritage Site Gunkanjima (Battleship Island) that has been getting worldwide attention as it was the model for the "Dead City" in the James Bond movie "Skyfall" 
See beautiful views of Nagasaki on board, and upon landing, explore this abandoned relic from the Meiji Era.
B: Breakfast | L: Lunch | D: Dinner
Day 1
Nagasaki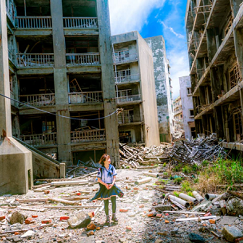 12:50 pm: Make your way to the Boarding gate in Tokiwa Terminal.
13:40 pm: Depart from Nagasaki Port.
Cruise around Gunkanjima and landing: From the cruising route, you can view buildings that cannot be seen on the land tour. After landing, provide guidance by professional guide staff throughout island.
16:05 pm: Arrive at Nagasaki Port. Please make your own way to your next destination. 
Landing time is "30-40 minutes" according to the regulations of Nagasaki City. And our captain will make the final decision of the landing time by the wave condition then. 

On the island, we will make a round trip about 220 meters, and the guide will explain about the photos of those days at the square of three view points.

Due to the safety rule, it is not allowed to use umbrellas in the island. Please prepare rain wear on rainy days. You are also able to buy a simple rain wear in the ship (JPY 200 per rain wear).

On nice weather days, the light might be dazzling, so that we strongly recommend passengers to bring with hats and drinks. (Due to the safety rule, it is not allowed to use umbrellas in the island.)

Please put on sport shoes or shoes with a flat heel. Due to the fact that the landing pier of the Gunkanjima is an iron-barred bridge. Walking with high heels is not recommended.

Crossing the gangway while getting on/off the ship might sometimes be dangerous. 

Passengers shall wear clothes light and convenient.

Rain and water may splash on the deck place. (outside seats on first and second floor) Our captain has right to ask passengers move to inside seats if the wave condition or weather is bad.

When taking the ship: It might be very wavy while the sea condition is bad, please follow the directions by our staffs.

Not allowed to go inside or next to the buildings, because we do not know when they will collapse. But 

you will be able to observe the high-rise apartment buildings from the ship, when having a tour around the island.

Inside the island, you will be required to follow the guide and other staffs instructions, and move into a single group.

Due to the narrowness of the path, we will ask visitors to not take pictures standing in the middle of the path.

Pictures shown are illustrations purpose only.
More Japan Travel Packages