Explore the Beppu Hells if you would like to see another side of onsen culture!
The jigoku are for viewing, by the way, not for bathing in, since they can reach temperatures of about 98 degrees Celsius. This half day tour highlights the best hell of the town, featuring iconic onsen steam panoramic views and authentic local experience.


B: Breakfast | L: Lunch | D: Dinner
Day 1
Beppu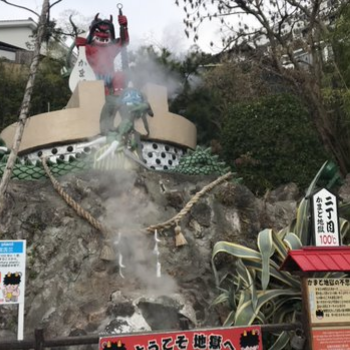 10:00 pm: Meet the guide at Beppu station.
Blood Pond (Chinoike) Hell: The "blood pond hell" features a pond of hot, red water and a large souvenir shop. It is one of the more photogenic hell.
Cooking Pot (Kamado) Hell: The "cooking pot hell" features several boiling ponds and a flashy demon statue as cook. On the grounds, visitors can drink the hot spring water, enjoy hand and foot baths, inhale the hot spring steam and try various snacks cooked or steamed by the hot spring.
Sea Hell (Umi jigoku): One of the more beautiful hell, the "sea hell" features a pond of boiling, blue water. In its spacious gardens, there are a few smaller, orange colored hells and a clear water pond with lotus flowers whose large leaves are strong enough to carry small children.
13:00 pm: Tour ends at Beppu station. Please make your own way to your next destination.
English speaking guide
Public bus fee
Admission tickets
1 hot-spring steamed egg
Please wear clothing and footwear that are easy to walk around.
Maximum: 8 people / Minimum: 2 people
If you are not able to arrive at the meeting point by the departure time, the tour will start regardless and no refund will be provided.
More Japan Travel Packages