Visit the ancient capital's most famous sites in just one day! This day tour takes you across Kyoto to world-renowned temples, shrines, and palaces such as Nijo Castle, Kinkaku-ji Temple, Fushimi Inari Taisha Shrine and many more majestic places in Kyoto. This tour is very popular for first-time Kyoto visitors. With transportation, a guide and lunch included, this tour makes planning your Kyoto day trip a breeze!
Time
 From Kyoto : 08:30 - 18:30
 From Osaka : 07:25 - 19:30
Departure

 Jan. 5-Dec. 30: Daily

Pick-up service
Kyoto: 

AVANTI sunrise tour desk (Kyoto station Hachijo exit)

Drop-off service
Kyoto: Drop off at Listed Hotels 
Code
 From Kyoto  JG-1NN2001
 From Osaka JG-1NP1001
From Osaka Departure : Additional charge required
Without lunch plan available,
For more details, please ask our consultants.

B: Breakfast | L: Lunch | D: Dinner
Day 1
Kyoto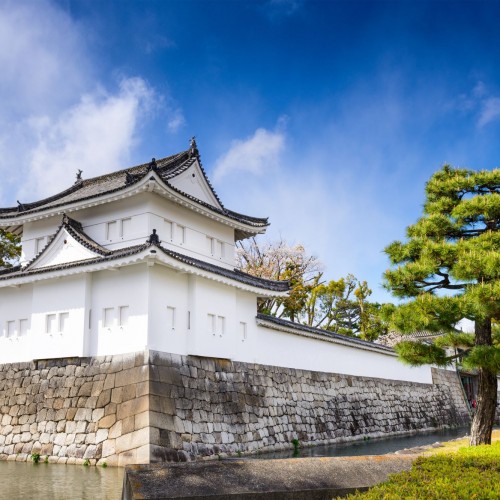 <From Osaka>
7:25 a.m: Depart Hotel Granvia Osaka. Take the JR rapid train (non-reserved seat) to Kyoto Station.
<From Kyoto>
8:30 a.m: Depart Avanti Sunrise Tours Desk (Kyoto Station Hachijo Exit) to visit the following by bus. *Report at least 10 minutes before departure.
Nijo Castle (50 min): Tour the historical castle completed in 1626, built to provide lodging for the Tokugawa Shogun and was designed to resemble the Kyoto Imperial Palace.
Kinkaku-ji Temple (45 min): Visit the Golden Pavillion, designated as a National Special Historic Site and National Special Landscape, with 2 floors covered entirely in thin layers of pure gold and detailed architecture incorporating three distinct styles of shinden, samurai, and zen.
Kyoto Imperial Palace (40 min): [Except Mondays] Gain exclusive access to the former residence of the Emperor of Japan, who oversaw many important functions until the capital was moved to Tokyo in 1869. [Mondays and Tuesdays when Monday is a national holiday] Kitano Tenmangu Shrine (40min) This shrine's main hall is a designated national treasure. The shrine is especially great to see during the plum blossom and autumn leaf seasons.
Lunch: Japanese set meal. Dietary requests are not available, so please book the plan without lunch if you have any dietary restrictions. 
Fushimi Taisha Shrine (30min): Fushimi Inari Taisha Shrine is the head shrine of 40,000 inari-jinja shrines located all over Japan. The bright red Torii gates are a must-see attraction. 
Sanjusangendo Temple (30min): Visit the world's longest wooden structure, housing 1,001 life-size statues of Buddhist Kannon deities dating back to the 13th century. 
Kiyomizu-dera Temple (70min): The view of Kyoto from the World Heritage Site of Kiyomizu-dera Temple is superb. The historic shopping lane that leads to the temple also adds to a wonderful experience.
17:30 - 18:30p.m. Drop off Service from Kyoyomizu-dera temple to listed hotels (Kyoto only).
<For Osaka> Ride JR rapid train non-reserved seat to Osaka Station from Kyoto Station.
6:30 - 7:30p.m: Arrive at Osaka Station. Tour concludes upon arrival.
Connections from this tour can't be made to the booked on the same day as the Kyoto Night Tour and Kyoto Maiko Dinner.
Please gather at the pick-up point at least 10 minutes before the scheduled departure time.
Kyoto Pick-up Points & Bus Departure Time:
AVANTI sunrise tour desk (Kyoto station Hachijo exit): 8:30 am
Kyoto Drop-off Points:
Kyoto Hotel Okura, Hotel Nikko Princess Kyoto (*limited to staying guests), Karasuma Kyoto Hotel, Sunrise Tours Desk in Avanti (across from Kyoto Station Hachijo Exit), Rihga Royal Hotel Kyoto, Kyoto Hotel Tokyu, ANA Crowne Plaza Kyoto, Kyoto Tower (Kyoto Station Karasuma Exit)
*Subject to change due to operational reasons. Please re-consult the departure location and time with your travel consultant at the time of booking. 
Lunch
Transportation

National Government Licensed English Guide Interpreter

Consumption Tax
If the minimum number of participants (1) is not met by 4 days before the scheduled date, the tour on that date may be canceled.
The Kyoto Imperial Palace is closed on the following days. As such, the tour will visit Kitano Tenmangu Shrine instead. (Mondays, Tuesday if Monday is a national holiday, May 14-17 for the Aoi Festival, New Year's holidays, and whenever there is an Imperial Household event.
The tour will visit Nishi Hongan-ji Temple instead of Kitano Tenmangu Shrine on May 25.
Nijo Castle is closed on Tuesdays in January, July, August, and December. (Closed on the following day if Tuesday is a holiday.) If closed, or if the tour is during the year-end/New Year's holidays, Ryoan-ji Temple will be visited instead.
During the Gion Festival (Sakimatsuri, July 15 - 16), drop-off service to Karasuma Kyoto Hotel and Hotel Nikko Princess Kyoto will be unavailable due to traffic restrictions.
Connections from this tour can be made to the "Kyoto Maiko Dinner" and "Kyoto Night Tour." Connections are made at Kyoto Hotel Okura or the Kyoto Handicraft Center.
Participants will walk from the parking lot to Fushimi Inari Taisha Shrine (about 15 min one-way). Thank you for your understanding.
Please note that due to repair and restoration work, part or all of the Kiyomizu-dera Temple Main Hall will not be visible.
The order of activities and arrival times may differ depending on road conditions and congestion at destinations.
 A set menu meal will be served for lunch. For those who would like a vegetarian meal, please make sure to inform us at the time of reservation. If requests are not provided in advance, same-day changes cannot be accepted. Halal, gluten-free, and other meal requests are not available.
*Pictures shown are for illustration purpose only 
More Japan Travel Packages