Wondering what to do in Sapporo at night? Let's stroll the streets of Susukino and visit 3 different izakaya bars that you wouldn't find on your own!
Izakaya is an unique aspect of our culture! It is a combination of a diner and a pub, where people enjoy drinking with well-paired small dishes.
Sample fresh local seafoods and recommended drinks, like cold draft beer, Japanese sake, or shochu by local guide!
B: Breakfast | L: Lunch | D: Dinner
Day 1
Sapporo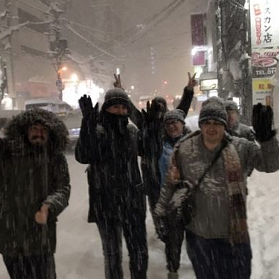 18:00 pm: Meet the guide near Susukino station.
Indulge in some amazing seafood, fresh from the cold seas of Hokkaido: Your bar hopping tour begins from Susukino station. Enter a secret, underground Izakaya, say "Kanpai!" and enjoy some locally produced food and drinks! Surrounded by sea, Hokkaido is the perfect place to enjoy fatty fish all year round!
Hopping various Izakayas, recommended by Sapporo local guides: Fill up your stomach and decide where you want to enjoy some more Hokkaido food/drink on your next stop while hearing about your local guide's favourite locations. Sapporo is home to various unique drinking spots like a hidden indoor bar.
Conclude your night with more drinks! Finish with a sweet parfait or with a savoury Ramen the choice is yours young skywalker: Hokkaido is the place where you can enjoy drinking in many ways. Drink some Hokkaido whiskey or beer? Finish by filling up your stomach with a parfait or a Japanese favourite.
21:00 pm: Tour ends 
1 food set & 1 drink
Hopping 3 local izakaya bars with a local guide
Tour photos
Please note that there may be other participants.
You do not need to pay for the guide's food and drinks.
Anyone over 15 years old can join this tour.
Only person over 20 years of age can drink alcohol because of law in Japan.
Cannot make an allergy free or dietary restriction food guarantee since food is prepared in kitchens.
This tour could possibly visit the place where smoking is not prohibited. please note that we may not be able to change the tour in this case.
Out of respect for our other guests and to ensure the best tour for everyone, we must start the tour on time.
You will not be able to join the tour, get refund or rescheduled if you are late for the tour and missed the group.
Changes to tours and spots we visit may occur due to schedules of restaurants, public holidays, weather conditions and other unforeseen circumstances. Applicable substitutions will be made in this case.
More Japan Travel Packages