Experience traditional and historical Japan by exploring the Samurai and Geisha districts of Kanazawa!
This tour kicks off with none other than the Samurai District. Once you set foot into this district you will immediately feel like you've time slipped to back in time to the feudal era of Japan. Your guide will take you next to one of Japan's top 3 landscape gardens; the gorgeous Kenrokuen Garden, as well as Kanazawa Castle. Enjoy a delicious soft-serve ice cream wrapped in real gold-leaf!!
B: Breakfast | L: Lunch | D: Dinner
Day 1
Kanazawa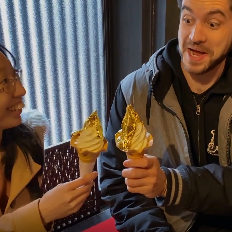 13:00 pm: Meet the guide at Kanazawa station.
Find yourself in the middle of Nagamachi, where remnants of a legendary Kanazawa's Samurai culture remain: After meeting your guide, you will travel to Nagamachi, a neighbourhood once inhabited by a band of Samurais. Here, you will explore the Nomura Clan Samurai House. You will get to see legendary artifacts that date all the way back to a time when Samurais roamed the streets. This amazing journey has just begun!
Breathe in the exquisite essence of one of Kanazawa's finest landscape gardens: Welcome to Kanazawa Castle Gardens and Kenroku-en, one of the finest Japanese gardens in the world. Feel the awesome aura of surrounding man-made structures such as castles and also creations of nature. Your local guide will take you through the hidden spots as well as some great spots for photos.
Stroll through Kanazawa's most famous Geisha district: Enjoy a nice stroll through Higashi-chaya, once a haven  of the fabled Geisha. Here, your local guide will take you through historically significant district and show you around an original Japanese Tea House where the Geisha once performed! You will also get to try out the famous "Gold Leaf Ice Cream"!!
17:30 pm: Tour ends in Kanazawa. Please make your own way to your next destination.
English speaking local guide
Entrance to all venues
Gold Leaf Ice Cream
Tour Photos
All ages are welcome on this tour.

You do not need to pay for the guide's food and drinks.

Please bring some cash for any purchase of souvenirs/drinks etc.

Out of respect for our other guests and to ensure the best tour for everyone, we must start the tour on time. 

If you are late for more than 15 minutes than meeting time (10 mins before the tour starting time), you will not be able to join the tour, get refund or rescheduled.
Be sure to wear comfortable shoes.
More Japan Travel Packages