Join this morning tour of the of the historic neighbourhood market in Tsukiji and taste specialities from the area: things you simply cannot find anywhere else!!
You have probably heard that the wholesale fish vendors has moved - But this part of town is still one of the best food area in all of Tokyo, home to delicious restaurants, and market shops, some dating back over 100 years or more. We know all the hidden gems and will make sure you have a chance to taste the many flavours that make up the heart and soul of Japanese cuisine!


B: Breakfast | L: Lunch | D: Dinner
Day 1
Tsukiji, Tokyo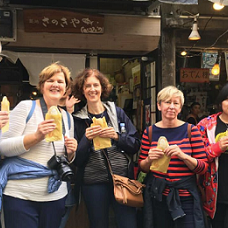 9:00 am: Meet the guide near Tsukiji station
We start off with our own special Tsukiji breakfast. Spend time touring the speciality fish market while visiting seafood vendors that make Tsukiji world famous and have elected to stay here rather than move. Special tasting break with seasonal bites and then tour the bustling outer market where you will try more
famous foods from the area, learn about the history and future of the market community and end your tour with a traditional dessert. 
During our market experience you will find many great things to purchase. Many vendors do not take credit cards so please bring cash in local Japanese currency so you can take home some wonderful souvenirs.
Many guests like to purchase a Japanese cooking knife as a memory of our Tsukiji day.
12:00 pm: Tour ends at Tsukiji. Please make your own way to your next destination.
English speaking local guide
Full Tsukiji speciality seafood breakfast
Try local dishes at 4 food stops
1 drink
We have a strict policy about starting tours on time. This is to protect the enjoyment of all our guests and restaurants. If you are not able to arrive at the meeting point by the departure time, the tour will start regardless and no refund will be provided. 
Unable to accommodate meeting up in any of the food stops once customer have missed the start of the tour.
This tour can be fun for children but no strollers.
Be sure to wear comfortable shoes.
Cannot make an allergy free or dietary restriction food guarantee since food is prepared in kitchens.
Changes to tours and spots we visit may occur due to schedules of restaurants, public holidays, weather conditions and other unforeseen circumstances. Applicable substitutions will be made in this case.
Minimum 2pax.
More Japan Travel Packages