Stroll through Meiji Shrine and Feel Kawaii Harajuku style with a local guide in Tokyo's trendy town!
You'll be able to visit shops that are recommended by locals without getting lost in translation, and you don't need to worry about getting confused about where to go and what to try. Your guide will do their best to ensure that you have the greatest experience possible in Harajuku!
B: Breakfast | L: Lunch | D: Dinner
Day 1
Harajuku, Tokyo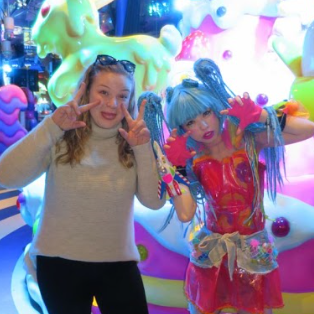 11:00 am: Meet the guide at Harajuku station .
Get insights into Harajuku pop-culture and fashion from your guide: Lastly, we'll head to a shopping street filled with Harajuku pop culture. Here, you can enjoy not only shopping, but also fancy sweets like crepes, pancakes, and cotton candy. At the end of the shopping street, you can snap fun purikura (sticker photos) with your guide to experience Japanese kawaii, photogenic culture and to make a memento of your trip.
Enjoy a colourful lunch in the Kawaii Monster Café: Harajuku culture is described as a huge, colorful monster swallowing different cultures from all over the world. After having our peaceful, cultural walk in Meiji shrine, we will go to the Kawaii Monster Cafe, which is based on the concept of the Harajuku monster. Here, you can have colorful pasta and cakes, and, if you are lucky enough, you can also watch a fun, entertaining show performed by "monsters" in the cafe!
Take a peaceful walk around Meiji Shrine in Tokyo: Meiji shrine is the embodiment of tranquility, with 365 different species  of trees to be found amongst the 100,000 that dot the grounds. It acts as a relaxing contrast to the fast-paced, busy streets of Harajuku. We will start the tour with a peaceful stroll around the shrine, breathing in some fresh air and preparing for the amazing Harajuku subculture experience.
14:00 pm: Tour ends at Harajuku area. Please make your own way to your next destination.
English speaking local guide
Admission fee of monster cafe
1 drink + 1 food at Monster Cafe (Vegan menu available)
Purikura Photo experience
Tour photos
All ages can join this tour.
Be sure to wear comfortable clothes and shoes.
Out of respect for other guests and to ensure the best tour for everyone, we must start the tour on time. You will not be able to join the tour, get refund or rescheduled if you are late for the tour and missed the group.
This tour can be fun for children but strollers are difficult in the crowded main area– therefore, baby carriers are advised.
Changes to tours and spots we visit may occur due to schedules of restaurants, public holidays, weather conditions and other unforeseen circumstances. Applicable substitutions will be made in this case.
More Japan Travel Packages