This nightlife tour will show you a side of Shibuya that tourist never see!
Step back into history and visit spots and have experience that locals have enjoyed for decades. Visit drinking and dining stalls that are hiding in plain sight. Learn about the culture of Tachinomi bars where diners snack on local seasonal dishes and drinks with friends and coworkers. Try some of the best local ramen at a favourite shop that has stood the test of time - serving local fans for over 60 years!


B: Breakfast | L: Lunch | D: Dinner
Day 1
Shibiya, Tokyo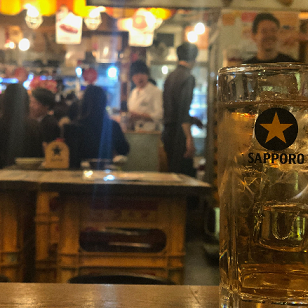 16:00 pm: Meet the guide near Shibuya station.
Start off the evening in a classic Tachinomi– Tachinomi is Japanese standing bar ("tachi" meaning stand, "nomi" meaning drink). Traditionally, they were a no-frills type of bar located around train stations or in working-class areas, where salarymen would come to unwind after a hard day's work. Let's kanpai (toast) and kick off the tour in local style. 
Japanese ramen has taken the world by storm in recent years but there is nothing quite like a real bowl of ramen enjoyed in the back streets of the big city. We will be visiting a ramen shop with a lot of history that has even been featured in a Japanese manga (graphic novel) — Please note on days when this shop is closed we will visit a back up shop serving amazing regional ramen.
Wind your way along back streets and take a sneak peek inside one of the best spots to buy souvenirs as we head over to our hidden gem izakaya (Japanese pub) wonderland where your guide will help you enjoy some of the best local dishes and drinks with a retro atmosphere like nothing you've seen before. Choose your own sake, beer, or special mixed drinks at this spot. (Non alcoholic beverages also available) before we head off to a sweet finish with our surprise dessert experience.
19:00 pm: Tour ends at Shibuya area. Please make your own way to your next destination.
English speaking local guide
3 drinks included ranging from beer, local sake and other beverages
Local dishes at 4 food stops
Please note that there may be other participants.
You do not need to pay for the guide's food and drinks.
Anyone over 20 years old can join this tour (Only person over 20 years of age can drink alcohol because of law in Japan).
Cannot make an allergy free or dietary restriction food guarantee since food is prepared in kitchens.
This tour could possibly visit the place where smoking is not prohibited. please note that we may not be able to change the tour in this case.
Out of respect for our other guests and to ensure the best tour for everyone, we must start the tour on time.
  You will not be able to join the tour, get refund or rescheduled if you are late for the tour and missed the group.
Changes to tours and spots we visit may occur due to schedules of restaurants, public holidays, weather conditions and other unforeseen circumstances. Applicable substitutions will be made in this case.
More Japan Travel Packages