Let's window into the whole different side of Tokyo with your local guide!
There is a place where you can become a part of the deep, local lifestyle and soak up Tokyo's old neighbourhood: the Yanaka District.
It is one of Tokyo's most charming and traditional town that survived the attacks of WWⅡ and endured all of the big earthquakes of Tokyo. Because of its resilience, this special area remains intact as it was decades ago, bringing an air of nostalgia and rustic charm.
You can see the ongoing daily activities carried out in the market, and enjoy local snacks and street foods in the backstreet.
B: Breakfast | L: Lunch | D: Dinner
Day 1
Tokyo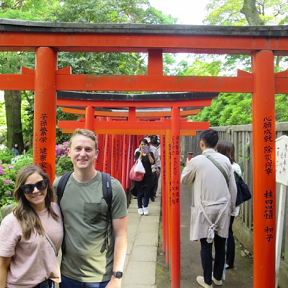 10:00 am: Meet the guide  near Nippori station.
Feel the Shinto vibe as you cross a vibrant red arch in Nezu Shrine, a portal into another world: After taking a stroll through Yanaka cemetery, we'll head for Nezu shrine, one of the oldest shrines in Tokyo. You may recognise it, as it's a place famous for its tunnel of vermilion torii gates, also seen at Kyoto's Fushimi Inari shrine. While your guide shares Japanese cultural and historical munchies, we'll take great photos in and around the tunnel. You can gain insight into how one can pray at shrines and how to behave at them.
Sample a variety of local food selections as you take a stroll around Yanaka Ginza: Find yourself in a cozy house that serves Soba lunch, a food engrained in Japanese food culture. We'll stroll through a residential area where you can get a sense of real, local lifestyles. You can pop into small places like antique stores and sweets shops that line the streets. A great meal awaits you at a local restaurant that serves authentic Japanese food. Soak up the authentic lifestyle that contributes to the nostalgic atmosphere!
Dive into the local lifestyle! Stroll the backstreets of a quiet local area: After visiting the famous Himalayan Cedar tree, we'll visit Yanaka Ginza, a long local shopping street which represents the flavors of Tokyo's old neighbourhoods. There are plenty of vendors that sell unique Japanese snacks and tasty homemade street food. Take in the incredible sight of all kinds of trades and goods dotting the street. Here, we'll taste some of local selections, all while strolling through the stalls and hearing all about the Yanaka district from the local guide.
12:30 pm: Tour ends at Yanaka area. Please make your own way to your next destination.
English speaking local guide
Lunch 
Food samplings (Various types of local snacks and sweets)
Tour photos
Please note that there may be other participants.
Any age can join the tour.
Vegan menu is available, but must be requested at the time of booking. 
Cannot make an allergy free or dietary restriction food guarantee since food is prepared in kitchens.
Out of respect for our other guests and to ensure the best tour for everyone, we must start the tour on time. You will not be able to join the tour, get refund or rescheduled if you are late for the tour and missed the group.
Changes to tours and spots we visit may occur due to schedules of restaurants, public holidays, weather conditions and other unforeseen circumstances. Applicable substitutions will be made in this case.
Be sure to wear comfortable shoes.
More Japan Travel Packages