Explore Kunisaki Peninsula, home to sacred forests and many temples and shrines!
Kunisaki Peninsula is one of Japan's hidden gems. Excellent walks along ridge trails once used by Buddhists monks in meditation and remote country side.
B: Breakfast | L: Lunch | D: Dinner
Day 1
Beppu - Kunisaki - Beppu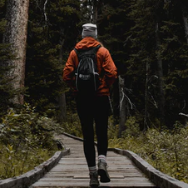 9:00 am: Meet the guide at Beppu station.
Usa Shrine: Built in the 8th century, this shrine t is the head shrine of thousands of shrines across Japan that are dedicated to Hachiman, the god of archery and war, who has also been identified with the legendary 15th emperor of Japan, Emperor Ojin. 
Fukiji Temple: Built in the eighth century, Fukiji Temple is the oldest wooden structure in Kyushu  and a stunning National Treasure. Situated deep within the grounds of a mossy, woodland forest, the temple is particularly striking in winter, when it is covered in snow.
Lunch: Japanese set meal.
Makiodo Temple: Most important for housing some of the finest examples of wooden Buddhist statuary in Japan—all Important Cultural Properties carved in the Heian period (794–1185).
Kumano Magaibutsu Buddha: Work from the end of the Heian period (794 - 1185), and is a National Important Cultural Property. The statue on the right measures 8 meters tall, and the one on the right is 6.8 meters tall. Visitors must climb 99 steps up to reach these statues.
Futagoji Temple: Located close to the peak of Mount Futago is Futagoji, a prominent temple with a history of more than 1300 years. Futagoji's grounds cover a wide area on the forested slopes of the mountain, with stone and gravel paths and stairs connecting several halls housing various deities.
17:00 pm: Tour ends at Beppu station
Transport to and from Beppu station
English speaking guide 
Lunch (Japanese set menu)
Tour may combine with other Japanese guests.
Maximum: 10 people / Minimum: 2 people
Please wear clothing and footwear that are easy to move in, and that can get dirty. Trails may be slippery.
The order of activities and arrival times may differ depending on road conditions and congestion at destinations.
If you are not able to arrive at the meeting point by the departure time, the tour will start regardless and no refund will be provided.
More Japan Travel Packages