Enjoy Japanese cultural activity of Shodo in Tokyo, Shodo expert will kindly teach you the connection between meditation, history of kanji, katakana and hiragana through Japanese calligraphy. You will practice handwriting on a calligraphy paper with a brush. Learning about a country through cultural workshops and activities will give you a better understanding of our intricate history, valued social principals and holistic way of life.
B: Breakfast | L: Lunch | D: Dinner
Day 1
Tokyo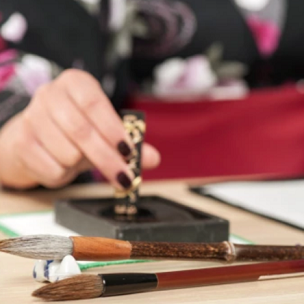 Meeting Point: Make your way to the venue. (Please select the start time upon booking: 11:00/12:00/13:00/14:00/15:00/16:00/17:00)
With the guidance of a kind calligraphy instructor, you will learn the history of kanji from China and the history of hiragana and katakana which are made from kanji. It is also important to know how to hold the brush and the posture when writing. You will practice handwriting on a calligraphy paper with a brush. You can practice a lot at will.
After practicing the foundation of vertical and horizontal lines like 一, 川 (one, river), next you will challenge your favourite kanji character. Positive feelings such as 愛(love), 福(fortune) and 幸(happiness) are popular.
Finally, from the origin and pronunciation of the name, you will get to know the kanji of your name and finish your work. Please enjoy your writing freely. Commemorative photo shooting calligraphy can be done in a traditional Japanese style room! ※ The staff will assist you to shoot a few photos with your camera.
We practice Shodo on tatami mats, but there are zabutons (cushions) for Seiza sitting so please relax even if you are not good at sitting straight on the tatami.
Tour End: Tour will end after 60 minutes. Please make your own way to your next destination.
Pictures shown are for illustration purpose only. 
Minimum 2 people
More Japan Travel Packages