See a real Tuna auction and explore the outer markets of Tsukiji and Toyosu Fish Market with a local guide!
You'll get to see giant tunas from all around Japan and the rest of the world and buyers and wholesalers actually doing auctions from the 3rd floor in Toyosu Fish Market. It is a very unique experience and worth waking up early! At Tsukiji fish market which has over 400 stalls and stores lined on the both sides, you will explore and taste what delicious delights they have to offer. Sample fresh seafood and local snacks recommended by your guide!!
B: Breakfast | L: Lunch | D: Dinner
Day 1
Tokyo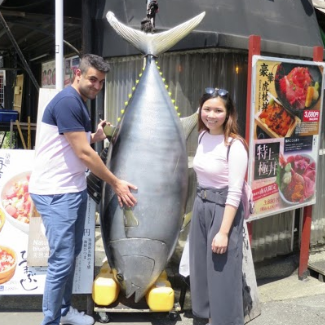 5:30 am: Meet the guide at Shinbashi station.
Rise and Shine at Tokyo's Biggest Fish Market, Toyosu Fish Market - Watching the Moring Tuna Auction: Good morning, and welcome to your special tour of Toyosu Fish Market and Tsukiji Market. Your first stop will be at Toyosu Fish Market, where you will be able to observe a tuna auction happening right in front of you! This market is also home to various museum style exhibits showcasing Japan's history with seafood. The famous Uogashi Alley will make you looking everywhere to see seafood, cutlery and miso.
Hunting fresh seafood at Tsukiji Fish Market, the original fish market of Tokyo: Take a bus to the hustling bustling market of Tsukiji. In this never-sleeping market, you will be able to partake in a food sampling tour with your local guide. Sample some local favourites such as a savoury egg omelette, grilled eel, and many more. There are so many options in Tsukiji, you won't know when to stop!
A seafood lovers breakfast at the heart of Tsukiji Fish Market: Have a savoury breakfast at a classic seafood restaurant at the heart of Tsukiji Market.The sashimi included in the bowl depends on today's catch, so make sure to come excited. If you are unfamilar with any food, your local guide will tell you their knowledge on seafood.
8:30 am: Tour ends at Toyosu area. Please make your own way to your next destination.
English speaking local guide 
Tuna auction at Toyosu Fish Market
Some food samplings at Toyosu and Tsukiji Market
Public transportation during the tour
Breakfast (Seafood) at Tsukiji Market
Please note that there may be other participants.
As we will take a bus to Toyosu market leaving at 5:33 am you CANNOT attend the tour if you come later than 5:30 am. Please check how to get to the meeting place by train or taxi beforehand. The detailed direction will be sent in advance. You will not be able to join the tour, get refund or rescheduled if you are late for the tour and missed the group.
Since the tour starts early in the morning and a few trains exist at the time, your guide might get to the meeting place a few minutes before the starting time (5:30 am).
Cannot make an allergy free or dietary restriction food guarantee since food is prepared in kitchens.
Changes to tours and spots we visit may occur due to schedules of restaurants, public holidays, weather conditions and other unforeseen circumstances. Applicable substitutions will be made in this case.
Be sure to wear comfortable shoes.
More Japan Travel Packages